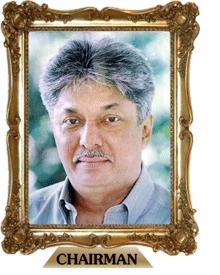 Globe Janakantha Shilpa Paribar started in early 1969 when the founder Mohammad Atiqullah Khan Masud was 17 years old and studying in the college. Dreaming to become rich he started occasional business by borrowing Rs.1200.00 (US$436/- i.e. Rs.2.75 = 1 US$ in 1969) only from his brother and brother's friend on a commitment to give them 50% of the profit that he will earn from the trading business. In this way he started earning small profits in each turnover once in every month.

In the meanwhile, he got a golden opportunity in the month of March 1971 when the price of betel leaf (Pan) jumped to Rs.175/- per kg. in Pakistan which costs only Rs.3 per kg. in the then East Pakistan now Bangladesh.

Betel leaf (Pan) is a kind of fresh green leaf chewed with lime, betel nut and tobacco which is very popular in Bangladesh, India and Pakistan. Since Pakistan and Bangladesh was one country at that time there was no restriction in carrying and selling any product to and from Dhaka and Karachi. Moreover, Pakistan does not produce pan and all pan requirement of Pakistan used to be fulfilled by Bangladesh. As such on mid March 1971 he purchased 25 kgs. of pan at Rs.75/- only, bought a return ticket of Dhaka - Karachi at Rs.250/- and flew to Karachi, sold the pan at around Rs.4000/- came back within two days and again took another chance in late March of 1971 with 50 kgs. and at that time sold the pan at around Rs.18000/- i.e. @ as high as Rs.375 per kg. This is how he carried forward his business endeavour with this bumper profit. Mohammad Atiqullah Khan Masud participated in liberation war as a valiant freedom fighter during 1971. After liberation war he completed his graduation and engaged himself in full time business with the money he earned before independence.